Not quite a year ago our family did our first Little Passports product review.
Read the whole post here: Friday Favorite- Little Passports.
At that time we'd been receiving our packets for a few months. My kids genuinely loved and looked forward to opening the mailbox and seeing the big white envelope. However, I never could have anticipated how much they learn and retain from time spent enjoying their Little Passport subscription.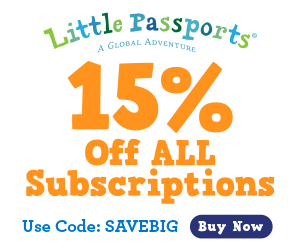 Recently we've been encouraged to start doing some travel product video reviews. (Side note: I've said this before recently…but I had no idea videos were such a big thing. They aren't my thing. But apparently people love them. So I'm trying to get on board!) Anyways, I'd been wanting to do an updated Little Passports product review, so I figured it would be a great video to start with.
Let me warn you before you watch the video- the key word here is  "start." I can honestly say that I realize we've set the bar really low for ourselves and improving is the only option! Ha!
Anyway, as you will witness in the video, our whole family benefits from the Little Passports information. My kids are learning without even realizing it. As each new state arrives, they dive into the content. Through recipes, science experiments, and crafts they spend time with state specific themes. It's really cool now to see how many different things they associate with each state!
In addition, one of the stops on our epic road trip this summer involved something we learned about through Little Passports. I won't spoil the video too much, but I can say- EVERYONE wanted to know about this particular stop when I shared it on our social media! It was completely off the wall random, but so memorable!
Little Passports makes a FABULOUS gift! I honestly don't know too many children who really need another toy for their collection. This product is perfect because it's a year-round opportunity for kids to receive mail (and who doesn't love that?) AND learn!
If you are interested in purchasing a subscription, you can visit this link: Give the gift of Adventure!
One last side note (am I allowed to have 2 in a post?!?!) before you watch the video. My kids are UNBELIEVABLE actors. I'm serious. One tiny injury- especially when caused by the other- results in hours of theatrics. However, they knew we were shooting this video and somehow the acting skills went out the window.
I wanted the Little Passports product review video to come across as authentic and natural so we didn't rehearse. I didn't tell them what to say or do. And yet, somehow, they look like they're reading off a cue card.  I apologize in advance for some of the parts that seem almost painfully scripted. Ironically, they aren't!
Pin This Post: